Not Always So: practicing the true spirit of Zen

by Shunryu Suzuki, edited by Edward Espe Brown, Quill, 2003 pp162
book review by Vladimir K., March 2004
It's been over thirty years since Suzuki's talks were first gathered together in a slim volume titled 'Zen Mind Beginner's Mind
'. First published in 1970 by Weatherhill, the book has become one of the most influential Zen books in English and is still read and loved to this day. Suzuki died at San Francisco's Zen Center in December of 1971, so he never saw what an impact his talks would have on Western Zen but I'm sure he would have been most surprised. Now we have another collection, 'Not Always So', first published by HarperCollins in 2002. Reading this book is like re-acquainting yourself with an old friend you haven't heard from for many years.
I first read 'Zen Mind, Beginner's Mind' about twenty years ago, when I was struggling with finding a path to follow. I am forever grateful to the book for setting me on the path of Zen. Since that time, my path has never wavered. Suzuki laid a firm foundation indeed! In those days I read and re-read his talks and he settled many a question for me. Gradually, I began reading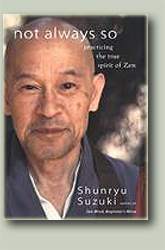 other Zen books and put aside Suzuki, picking him up only occasionally, but often recommending his book to those I ran across who wanted to know about Zen. Over the years I've met many Zen students who began their practice through Suzuki and that's what I mean when I say his book is 'influential'. I'm sure that other books may have influenced people to begin Zen practice (Philip Kapleau's 'Three Pillars of Zen' comes to mind), but I have never met them. Suzuki, with his gentleness, humour and, above all, compassion, has an important place in the history of bringing Zen Buddhism to the West.
So it was with great joy I found 'Not Always So' in a remnant book shop a few weeks ago. Joy, and I must admit, some trepidation. Would he stand the test of time? Would his teaching seem overly simple, shallow even, after many years of practice? After all, there has been a lot of tea drunk since those early days, a lot of wall facing, a lot of reading and a number of teachers. Perhaps the real fear was that I had lost my "beginner's mind" and I wouldn't find Suzuki relevant any more.
My fears turned out to be unfounded. Suzuki still talks to me, an old friend straightening the crooked path of my practice. While I may no longer accept everything he says unquestioningly (how I wish I had the opportunity to question him), there is more than enough in his teaching that shines and sparkles. He strips away the intellectualism that is so easy to fall into and gets down to fundamentals of practice, of everyday life as a Zen Buddhist. And who doesn't need reminding of that?
This book can be considered a true companion to 'Zen Mind, Beginner's Mind'. It's layout is very similar: a talk title, a quotation taken from the talk and thirty-five talks broken into five chapters. 'Not Always So' has been skilfully edited by Edward Espe Brown, author of 'The Tassajara Bread Book' and 'Tassajara Cooking' as well as 'Tomato Blessings and Radish Teachings'. Brown has managed to maintain the editing standards set by Trudy Dixon's editing of 'Zen Mind, Beginner's Mind' and switching between the two books is almost seamless. This is no mean feat as editing a talk given by a non-native English speaker is fraught with problems. It is necessary not only to transcribe the spoken word to the written format, which in itself requires an editing hand, but also to correct the English for readability without losing the flavour of the original spoken word. Reading both works reveals a 'naive' English which only adds to the charm of the work. For example, in 'Zen Mind', Suzuki says: "When the alarm rings early in the morning, and you get up, I think you do not feel so good."(p. 36) No native speaker would phrase it this way. Brown mentions in his introduction that Suzuki often used the expression "things as it is" and queries whether this phrase is due to poor English or a teaching. (p. viii) Keeping these minor flaws of language give both of these books an immediacy and appeal that could easily have been lost by a heavier hand.
The topics covered in 'Not Always So' are not really any different from 'Zen Mind': right practice, right understanding, right attitude. For example, in 'Zen Mind' Suzuki says: "To have some deep feeling about Buddhism is not the point; we just do what we should do, like eating supper and going to bed. This is Buddhism." (p. 76) 'Not Always So', he says: "What is important is not the teaching, but the character or effort of the student. Even to seek for enlightenment means your mind is not big enough. You are not sincere enough because you have some purpose in your study. And the desire to accomplish something or even to propagate Buddhism is not pure enough." (p. 118) The study of Buddhism is the study of the self, to paraphrase Dogen. Suzuki frequently returns to this theme with eloquent simplicity. The heart of his message lies in the everyday expression of our practice: "We share our practice with children and with people on the street. Even though they do not practice zazen, we can share the practice…I practice zazen with them, with the sound of the car, with everything."
One of the appeals of reading Suzuki is the sheer succinctness of his message. Here you won't find words or phrases such as anuttara samyak sambodhi , or the five skandhas , or dependant origination. There's nothing in Suzuki's books that needs any specialist knowledge, just an open mind. His message is straight-forward, simple and without artifice. His humour comes through clearly as does his self-effacing humility. Skilfully he teaches without teaching. These are the qualities that made 'Zen Mind, Beginner's Mind' so popular and so suitable for newcomers to Zen and these same qualities can be found in 'Not Always So'. If you loved the first book, or if you haven't read Suzuki, or if it's been years since you've put 'Zen Mind' on the shelf to gather dust, this latest volume is highly recommended. A welcome (and long overdue) addition to any Zen library.
Reference:
Suzuki, Shunryu (1981), Zen Mind, Beginner's Mind , Weatherhill, New York & Tokyo
Notes:
For more on Shunryu Suzuki see the official website Cuke.com an archival site on the life and world of Shunryu Suzuki and those who knew him - Home to the Crooked Cucumber Archives (Cuke Project) and other stuff from DC
If you are a member of Amazon.com (you can become one for free), you can use their "Look Inside" feature, which enables you to search for any words inside the text and to read that page. Click here
Search thezensite
---
Updates to thezensite
---
Zen Book Reviews
Miscellaneous & Reading Lists
Book Sources
---
Zen Links
---
Journals and Acedemic Sites of Interest
---
Miscellaneous
---
Non-Zen Topics
---
Essays of Interest
---
Interesting Sites
---
---
If you wish, you may make a small donation to help this site defray overhead costs.
Thank you.