By Richard Bryan McDaniel
Tuttle Publishing; 2013; 302 pages, plus Acknowledgements, Notes, Bibliography and Index of Stories
Richard Bryan McDaniel has set out to trace the movement of Zen Buddhism from China to the West, via Japan. This is the second of 3 projected volumes, the first being Zen Masters Of China: The First Step East
(Tuttle Publishing; 2012; 320 pages), which I have not read and therefore cannot comment on. The final book will look at the spread of Zen to the United States.

Zen Masters of Japan: The Second Step East
roams across the centuries of Zen in Japan beginning with the monk Kakua, who journeyed to China in the late twelfth century and studied Chinese Chan. (J: Zen) Little information is given about this monk other than he was a recluse who ended up in front of the Japanese Emperor who demanded to know what the monk had learned from his studies in China. Kakua pulled out flute, blew one note and left; a typical Zen story and, according to McDaniel, the earliest Zen story known in Japan.

The real story of Zen in Japan begins with Myōan Eisai (1141-1215) a Tendai monk who travelled twice to China and established Rinzai (Ch: Linji) Zen in Japan, building the first Japanese Zen temple, Shofukuji, at Hakata, near modern Fukuoka, on the southern island of Kyushu. Although the most important Dharma heir of Eisai was Ryonen Myōzen (1184-1225), it was Eisai's student Dōgen Kigen (1200-1253) who was to become the most important Zen master in Japanese history.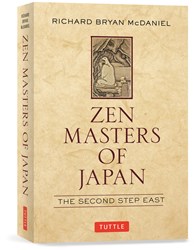 Dōgen studied only one year with Eisai and continued his studies with Myōzen, travelling to China with Myōzen in 1223. Two years later Myōzen died in China but Dōgen continued his practice, eventually achieving a great awakening under the Chinese teacher Tientong Rujing (J: Tendo Nyōjo) at Tientong temple. He received Dharma transmission from Rujing in 1227 and returned to Japan to establish the Sōtō (Ch: Cáodòng) school of Zen. The Sōtō school eventually became the largest Zen school in Japan, eclipsing the Rinzai sect which became most popular with the Japanese elite and warrior classes. Both schools, of course, have survived in Japan and are found in the West today.

McDaniel gives sketches of 51 Japanese masters, some of less than one page long. The most important, such as Dōgen, Hakuin, Bassui, Bankei and a few others get longer entries. The book concludes with the Rinzai master Soyen Shaku (1859-1919), the first Zen master to teach in America and a presenter at the famous Chicago World Parliament of Religions in 1893, the first exposure of Japanese Zen Buddhism in the West. It was Soyen's student, D. T. Suzuki (1870-1966) who would end up having perhaps the greatest influence on bringing Zen Buddhism to America. McDaniel points out in the Preface that he has chosen "a select group of Zen Masters who are recognized for the impact they had on the development of the tradition in Japan." (p 10) Although there is some useful background material on the culture and politics of the eras, the focus of the book is on stories about the masters, some of which are undoubtedly apocryphal but have become part of the Zen canon and are therefore important in their own right.

Zen Masters of Japan is collection of stories that have been told elsewhere in English and so there is nothing really new in this book. However, it does bring together, under one cover, stories which may be scattered through numerous English-language texts, making this a useful research tool and addition to one's library. The book itself (only 8 by 5 ½ inches) is nicely presented with an illustration for each of the nineteen chapters and prologue. The text is broken into bite-size chunks separated by a calligraphy circle making it easy to dip into the book at various places and its size enables one to easily pack it away to read when travelling. McDaniel writes in a very straightforward, easy manner and eschews flaunting his Zen knowledge so beginners will find this easy-going. This would be a handsome volume on any Zen student's bookcase and is especially valuable for those new to the practice.

Other Books of Interest

Zen Buddhism - History - Volume 2, Japan
; Heinrich Dumoulin, Macmillan, 1990
The Roaring Stream: A New Zen Reader (Ecco Companions)
; Nelson Foster & Jack Shoemaker, The Ecco Press, 1996
Moon in a Dewdrop: Writings of Zen Master Dogen
; Kazuaki Tanahashi (ed.) Element Books, 1985
Zen Flesh Zen Bones: A Collection of Zen and Pre-Zen Writings
; compiled by Paul Reps and Nyogen Senzaki; Tuttle, reprint 1998 [1957]