Dipa Ma-The Life and Legacy of a Buddhist Master
By Amy Schmidt, Windhorse Publications, 2005, 168 pp
Forward by Sharon Salzberg; Introduction by Joseph Goldstein Barre, Afterword Jack Kornfield
Reviewed by Lindsay K.
November, 2005

This little book is the inspiring story of a modern saint. It comprises Dipa Ma's biography, her core teaching presented in 10 lessons, and brief remembrances from many of her students, both eastern and western.
Born in 19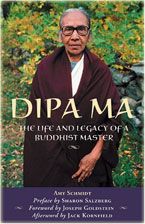 11, married at 12, and denied the joy of motherhood for the first 20 years of her marriage (a cause for great public shame in the Hindu society of her day), Dipa Ma gave birth to three children in her 30's, only to lose two of them, then her health and then her husband in less than 10 years. Succumbing into an invalid state of despairing grief, she eventually felt she must learn to meditate or die.
This book is the story of her experience, awakening and transformation from a widowed desperate single mother house-bound through illness to a spiritual beacon who attracted first family and friends, then neighbours and strangers to her. From the late 1960's onwards westerners also came, seeking her out in her tiny Calcutta apartment for guidance. Eventually, in the 1980's, she made two teaching trips to the Insight Meditation Centre in America.
Her students describe entering her presence as being absorbed "into her great vast empty heart with room for the whole of creation", and of entering a field of "total stillness and unmoving sense of quiet". All contributors in the book agree on her almost overwhelming selfless love and compassion.
Beneath this compassion however was a hard taskmaster. Having developed her own practice through the experiences of an unsupported single mother, Dipa Ma was uncompromising on the need for daily meditation, even if only for a brief period, and unwavering in her stance that mindfulness can be developed in all circumstances at all times regardless of lifestyle. She insisted that we can "make good use of everything in our lives", that there is no lifestyle and no activity that inhibits practice, and she would accept no argument to the contrary.
This is Dipa Ma's legacy to us. It might be tempting to see her inspiration as being a lay woman who reached great achievements in a traditionally patriarchal religion whose teachers and sages have been overwhelmingly monastic men, but this limits the great and direct presence of her spiritual grace that is universally attested to by the books contributors. She was indeed a woman householder, with no direct teacher and belonging to no specific monastery, and as such she is undoubtedly an inspiration and encouraging light to women. But ultimately her inspiration is not gender-oriented. It is that all can emulate her regardless of gender, of lifestyle, of nationality.
Dipa Ma taught that every moment of your life is an opportunity for mindfulness practice irrespective of your life circumstances. To this goal everyone following the dharma can aspire.
A true teacher of dying as well as living, at age 78, unwell, and awaiting a summoned doctor, Dipa Ma began listening to a visiting neighbour chant the sutras. She turned and bowed down to the Buddha, took her final breath and didn't get up.
This book, like its subject, is simple and inspiring. Written by a devotee, it is the kind of book that, having been read once, can be dipped into time and again at random. It is sure to introduce Dipa Ma to many who could not come to her in physical form.